Chamomile Body Butter
Regular price
Sale price
$24.00 USD
Unit price
per
Chamomile contains anti-inflammatory properties which helps to soothe itchy and inflamed skin. The scent helps to calm the mind and relax the body.
This luxurious natural body butter melts into your skin, leaving it feeling soft, nourished and moisturised. It's a real skincare essential after bathing.
The Chamomile body butter contains ingredients such as Shea Butter and coconut oil that will help to protect and repair the skin. 
This vegan body butter is made with 100% natural and 99% certified organic ingredients. 
How to use:
Use after a bath/shower for maximum benefits. Rub butter between your hands to melt then massage into desired area on damp skin.

If using to treat dry skin - use three times a day, and be sure to use a gently cleansing body wash/bubble bath, to see the difference in your skin.   
Can be used with the Lavender and Chamomile bath salts or Hemp Seed Beauty oil to gently cleanse the skin.
Ingredients: 
Organic Butyrospermum Parkii (Shea) Nut Butter, Organic Cocos nucifera (Coconut) Oil, Organic Helianthus annuus (Sunflower) Seed Oil,  Anthemis Nobilis (Chamomile) Flower Oil, Tocoperhol (Vitamin E), Linalool*, Limonene*, Geraniol*, Citronellol*
*Naturally occurring in essential oil
Cautions: 
Do not use if you suffer from epilepsy. It is recommended to seek advice from your GP if you have any serious medical conditions. 
Keep out of reach from children, store in a cool dry place away from direct sunlight. If any irritation occurs discontinue use. 
Share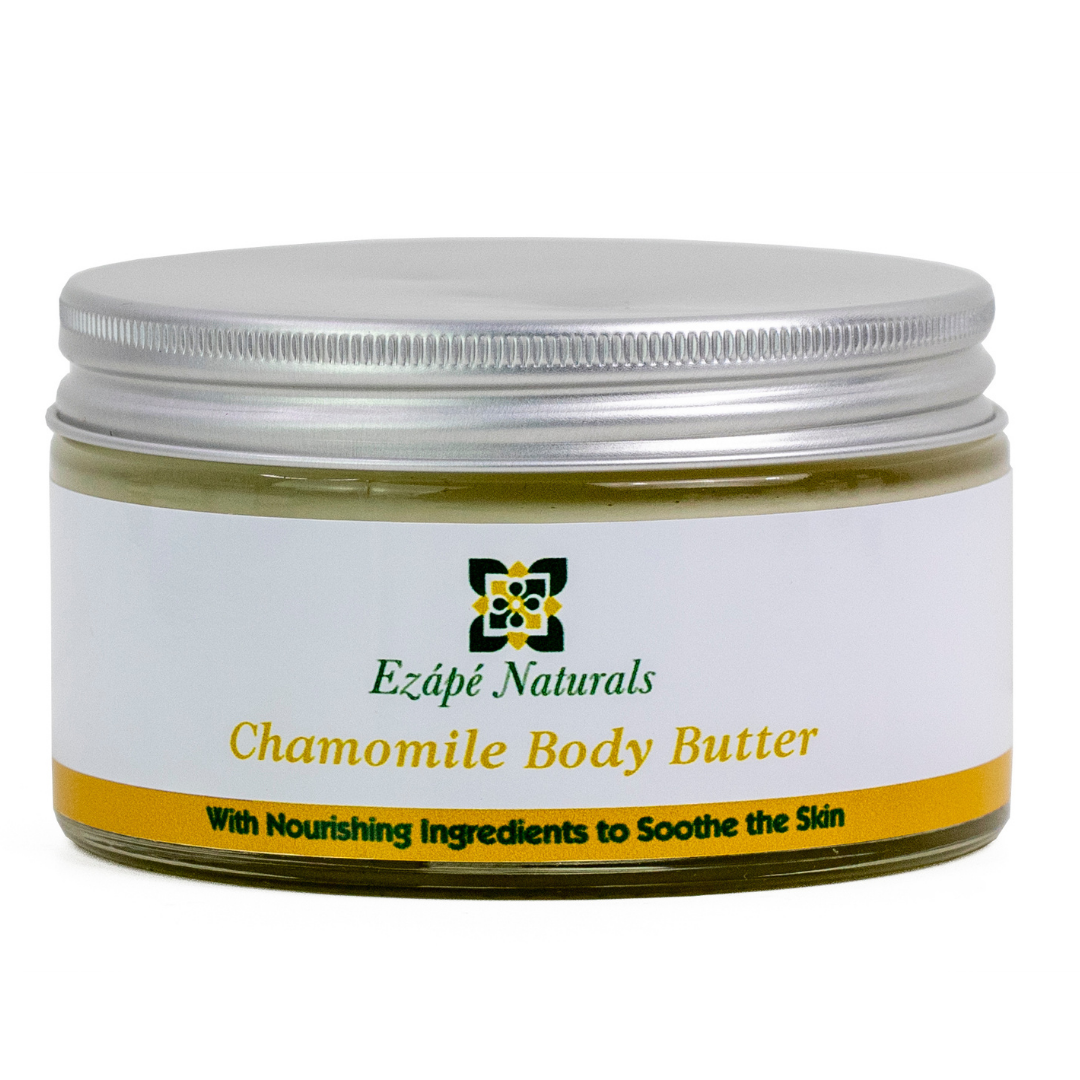 Customer Reviews
08/05/2021
Christine

United Kingdom
Amazing!!
After my son's 100th exzcema flare up, I was desperate to find a natural remedy. The Chamomile Body Butter has been 'skin changing'; revolutionary for my son's healing. After just two applications, the difference was remarkable, the raised bumps began to dissapear. This product will certainly be a staple in my son's skin regime. Thank you.
06/04/2021
Keshia L.

United Kingdom
Love it!
The texture is so creamy and absorbs well into the skin. I've noticed that my skin has become a lot smoother since using it especially my dry eczema patches. I'm very impressed and will be purchasing again.
03/30/2021
Deepika S.

United Kingdom
Chamomile Body Butter
I suffer from atopic eczema/dermatitis and just like a lot of people that suffer from eczema, I've tried so many creams, butters and lotions and nothing has worked for me all these years. This amazing Chamomile body butter has a creamy consistency and is the only one that has worked for my eczema, it has softened my hard eczema areas and helped with a little discolouration too. I've been using this body butter for nearly 3 weeks now, I wanted to give it a good try before writing a review. And it really is the best butter I've used. The texture of my skin is so much more smoother and I don't have to use any steroid creams anymore. The scent is so calming before bed. Love your brand and looking forward to buying more soon. Thank you so much for making this butter. I wouldn't change a single thing about it. Xx Deepika
03/16/2021
Lenka W.

United Kingdom
Chamomile Body Butter
Very satisfied with this product, it absorb into skin fast and leave it nice soft and hydratated with nice smell of chamomile. Purchased already a second one and will do again.